There are loads of walks around Temple Newsam Estate to enjoy with families and children. It's a fantastic place to explore and the cafe, farm and play ground are perfect to make it into a full day out. Here are some suggestions on  Temple Newsam walks including circular walks, and maps of walks around Temple Newsam to enjoy with kids!
CLICK HERE FOR A MAP OF THE TEMPLE NEWSAM TRAILWAY
---
A circular pram-friendly walk around Temple Newsam
I'll caveat that this is pram-friendly by saying that after wet weather the route can get extremely muddy. So if you do have a pushchair, stick to summer walking! If you're a welly-lover then this is a great walk all year round. Map of this 3km Temple Newsam Walk here.
The walk takes you past the house and downhill to the estate woodland. Pass below Little Temple before heading on a farm track which brings you back into Temple Newsam behind the Rose Garden and the beautiful ponds. More information on this walk available on the Muddy Boots Mummy Blog.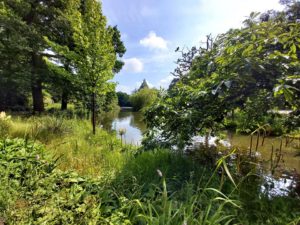 ---
A walk to Skelton Lake from Temple Newsam
The unlikely destination of a service station has proved extremely popular with walkers! Skelton Lake services is unsurprisingly positioned right next to Skelton Lake, which you can easily approach from Woodlesford, Rothwell Country Park or from Temple Newsam (although be aware there's a steep ascent on the way back). A walk from Temple Newsam House, around the Lake and back again comes in at around 7km. Route map available here.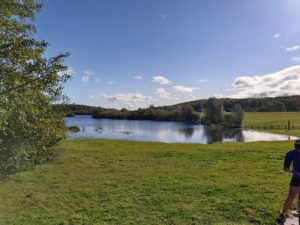 ---
Temple Newsam's Views circular walk
Enjoy some of the best views that the estate has to offer with this absolutely beautiful walk. It's less than 5km but has so much variety to enjoy! Unsurprisingly with a walk with views, there are a number of hills! This walk is definitely not suitable for buggies with a few stiles, steps and steep woodland sections, and can be muddy in wetter weather. Map of the Temple Newsam Views walk here.
---
Exploring the woodland of Temple Newsam
There is a fair chunk of woodland to explore at Temple Newsam. It's great for toddlers and little legs- just let them choose the path and get lost in the magic charms (you might even spot the deer!).
My suggestion for walking in the woodland at Temple Newsam is by entering the estate off Bullerthorpe Lane and joining one of the paths (there is a marked nature trail). Don't take a buggy, there are a number of steps around 🙂 Find some true hidden treasures lurking in the trees.
---
For more walks around South Leeds, try these blogs!