Where is Skelton Lake?
Skelton Lake sits behind Skelton Lake services on the M1. It is also accessible from the canal path that follows the Transpennine trail.
How to get to Woodlesford Lock from Skelton Lake?
The best way to follow this route is to park at Skelton Lake services (3 hours free) and walk to Woodlesford, as the parking at Woodlesford is limited. It is an extremely straightforward route.
At the back of the services, go through the gateway to find a track. Turn right here, and follow the track all the way until you see Skelton Lake on your left hand side.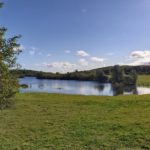 The path becomes surfaced here, continue on this to go onto a bridge over the River Aire and then you'll find yourself on the canal path. Turn left, you'll soon arrive at Fishpond Lock. At this point, if you're on bikes or have a buggy you may wish to cross the lock and follow the road down the side of the canal on the other side (don't worry it's a private road so you're unlikely to see cars until you reach Woodlesford Lock). If you're on foot you may wish to keep to this quieter side of the canal until you reach Woodlesford Lock.
On your return journey, you may wish to walk or cycle around Skelton Lake. Be aware that the path can be VERY muddy after wet weather. On your way back to the services, after you cross the bridge, follow the path that branches off to the right over the grass area. This eventually goes into the woodland adjacent to the Lake, before eventually meeting the track that runs behind the services. Turn left to return to the services.
At Woodlesford, you can enjoy the sculptues of the Gruffalo and other characters courtesy of Woodlesford in Bloom.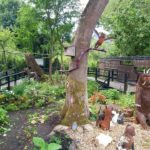 Where is Woodlesford Lock?
Woodlesford Lock is just over 3km from Skelton Lake service, so a walk or cycle there and back is just short of 6.5km (slightly longer if you go round Skelton Lake on the return journey). Woodlesford Lock is just off the A642, on the way from Woodlesford to Swillington, in the South East of Leeds.